Support
XyXon supports MariaDB installation and operation as a MariaDB Advanced partner. Also, MariaDB Corporation, whom XyXon has a partnership contract with, consists of the original developers of MySQL and MariaDB, so in addition to MariaDB support, MySQL (including older versions) support is also included in subscriptions. Besides rich experiences and skills XyXon has gained in Japan over years, strong back support from engineers who are the experts of MySQL/MariaDB is also available, allowing us to provide hight quality support services to our customers.
Three different types of subscription are offered. "MariaDB Enterprise" has two subscription types, "Standard" and "Advanced", both are designed for enterprise-class uses with different services and features respectively. The other one is "MariaDB Enterprise Cluster" subscription which is specifically designed for clustering.
About MariaDB Corporation
MariaDB Corporation (former SkySQL: company name changed on October 1st 2014) is the global enterprise headquartered in Finland, and has their teams in every region in order to cover any time zone around the world. In 2013, they raised the fund of 2 billion yen for its foundation and stability improvement, and succeeded in acquiring global reliability and customer development. They now have 400+ customers in over 30 countries.
The development principles and fine precision of MariaDB are highly evaluated and a number of organizations and enterprises have replaced their database from MySQL to MariaDB, for example such massive systems as the huge online encyclopedia 'Wikipedia', the largest search engine 'Google', and one of the three biggest air ticketing networks 'Amadeus'.
Additionally, MariaDB Corporation provides support services for MySQL including older versions (MySQL 4.1 or newer), while Oracle Corporation only supports MySQL 5.5 or newer. This is because the original MySQL developers including Michael "Monty" Widenius has moved to MariaDB Corporation - now 95% of former MySQL AB members are in MariaDB Corporation.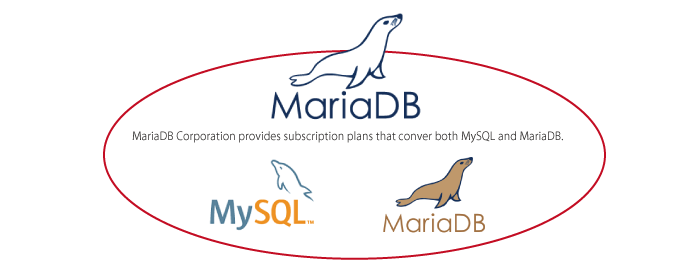 Subscriptions
Each subscription price written below includes support services both for MySQL and MariaDB.
Note: The subscription types and prices will be revised by MariaDB Corp on December 1st 2017. Please contact us for more details.
(updated on August 1, 2016)


MariaDB Enterprise Standard
MariaDB Enterprise Advanced
MariaDB Enterprise Cluster
Subscription Price
(English language support)
300,000円/year


(1 server)

750,000円/year


(1 server)

937,500円/year
(1 server)
*At least 3 servers required for clustering
XyXon Support Included Price

*1


(Japanese language support + Original know-how provision)
450,000円/year


(1 server)

1,125,000円/year


(1 server)

1,406,250円/year
(1 server)
*At least 3 servers required for clustering
Supported Database
MariaDB, MySQL,
Percona, WebScaleSQL
MariaDB, MySQL,
Percona, WebScaleSQL
MariaDB Galera (Cluster)

Support Servivces
Japanese language
✔
✔
✔
Unlimited incidents
✔
✔
✔
24x7x365
NA
✔

*2

✔

*2

Emergency 30 mins response
NA
✔

*2

✔

*2

Bug fix
✔
✔
✔
Hot fix
NA
✔
✔
MySQL older versions

(v5.1 or older)

NA
✔
✔
Catabilities and Tools
MySQL compatibility
✔
✔
✔
Easy install
✔
✔
✔
Pre-loaded Approved plugins and storage engines
✔
✔
✔
Pre-loaded MariaDB Audit
✔
✔
✔
Enterprise Monitoring
NA
✔
✔
Query Analyzer
NA
✔
✔
Visual Query Editor
NA
✔
✔
Hot Backup
NA
✔
✔
Backup Manager
NA
✔
✔
Connector support


(MySQL/MariaDB - JDBC, C, ODBC)

NA
✔
✔
BI engines


(CONNECT, TokuDB, InfiniDB)

NA
optional
optional

*3

Graphical Cluster Manager
NA
NA
✔
MHA (auto failover)
NA
NA
✔
Galera sync replication
NA
NA
✔

*3

DRBD (sync block replication)
NA
NA
optional
NDB (MySQL Cluster)
NA
NA
optional
*1 XyXon Support includes; provision of our original knowhow obtained through rich experiences, Japanese language support from 9am to 5pm on weekdays, provision of detailed information on the cooperation with our products.
*2 The 24x7x365 support service is the service provided by MariaDB Corporation. Customers need to contact MariaDB Corporation directly in English, before and after XyXon's businness hours (9am-5pm JST on weekdays).
*3 WebScaleSQL only (NRE)