Overview
MariaDB Enterprise is a package product that adds tools, add-on services, and support services to MariaDB. While the community version of MariaDB prioritizes development rapidity, you can use MariaDB Enterprise for business projects at ease as the matured, fully tested version of MariaDB is provided in MariaDB Enterprise subscription. As you can receive careful consulting and rapid support services, MariaDB Enterprise can be introduced as infrastructure foundation superior in reliability even for such projects where high-leveled skills are required. Also, if you use both MySQL and MariaDB, MariaDB Enterprise subscription facilitates your inquiry efficiency by the unified support service as MySQL support is included in the subscription.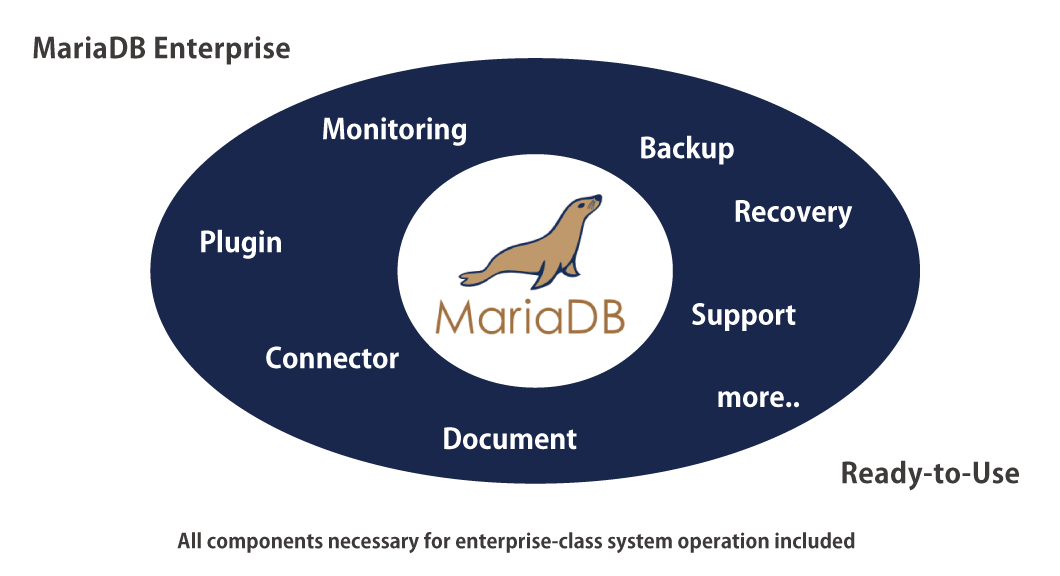 Details
MariaDB Enterprise includes the followings.
Certified Binaries
The community version of MariaDB focuses on innovative developments as is often the case with open source projects. Therefore it comes with third-party and experimental technologies all activated by default. MariaDB Enterprise on the other hand provides customers with only the matured components activated by default and key extensions pre-installed. For example, about storage engines only MyISAM, InnoDB, and XtraDB are active by default, and the inspection tool MariaDB Audit plug-in is installed in advance. In this way, various settings are conducted in advance with presupposing the use in enterprises. Deploying and configuring MariaDB with support services significantly improves its stability compared to the community version.
Related Tools
When you purchase the subscription, third-party DBA tools and development tools are provided. By utilizing these related tools, you can visually perform monitoring, query analysis, backup, and so on. The work efficiency will be significantly improved, and it also helps removal of query bottleneck and precise tuning etc.
Support Service
One of the big advantages of purchasing a subscription is that you can receive comprehensive support services. XyXon is the partner of MariaDB Corporation structured by the original developers of MySQL and MariaDB, and has strong back supports from them. This allows us to provide the highest quality services even for complicated and advanced inquiries. Incident is unlimited, and XyXon's experts analyze customers' environment and suggest the best approach. Also MariaDB Enterprise subscription provides maintenance works and patch files to all the bundled softwares.
Further, two subscription levels (Standard and Advanced) are offered in MariaDB Enterprise, and you can choose either one depending on your requirement. For more information, visit here.
MySQL Support
MariaDB Enterprise subscription includes support services both for MySQL and MariaDB. XyXon has been providing MySQL support for many years and has many customers who use MySQL as the database for its main product CMS "HeartCore", through which XyXon has gained abundant experiences and know-hows. Also, as many of the MySQL original developers and experts are enrolled in MariaDB Corporation where XyXon receives back support, it is also possible to cope with inquiries about legacy versions of MySQL.